How to Make Money Playing Hearthstone
100 million people enjoy playing Hearthstone, but only a handful of those are paid players. Why not change that? If you're a Hearthstone fan looking to make money playing, you have come to the right place.
Set in the Warcraft universe, Hearthstone is a digital collectible card game where two players battle each other to win. Blizzard released the game in 2014, but the release of new card decks keeps the game current and its popularity is not diminishing.
Because of this, Hearthstone is an excellent choice of video game for making money. Loved by many and constantly evolving, this timeless game has huge potential.
Want to know more? Keep reading for all our tips on transitioning from zero to Hearthstone hero.
Streaming
One of the easiest ways to start making money playing Hearthstone is live streaming on sites like Twitch and YouTube.
For a story of true success, let's look at Jeremy 'Disguised Toast' Wang, one of the most successful Hearthstone streamers in history. He makes around $20,000 every month from streaming on Twitch.
Where does that money come from?
Money from streaming video games comes from three main sources: donations, ads, and subscriptions. Disguised Toast said he makes around $2,500 from donations, $4,000 from ads, and $14,000 from paid subscriptions each month.
However, once your stream is established, you can start running sponsored content which is where the real money lies. Disguised Toast said he can make anything from $1,000 – $10,000 per hour for a sponsored stream that goes on top of anything earnt directly through the platform.
Obviously, the bigger your channel the more you can earn, so do not expect to make $20,000 from your first-month streaming. However, everyone started somewhere.
To get started, read our guide on streaming games for money.
Competing in Pro Tournaments
If you want to start competing in Hearthstone tournaments with the hope of winning prize money, the best way to start is to enter online competitions. Online contests will have a range of entry fees, but the bigger the buy-in the bigger the prize.
Once you have perfected your Hearthstone gameplay and won several tournaments, try entering higher-profile events. Thankfully, Hearthstone is one of the most accessible eSports with several qualifiers running. If won, this gives you entry to top level contests.
The entry-level competition is the Hearthstone Masters Qualifiers.[1] The champion of each qualifier will be offered a place in the Masters Tour which has a prize pool of $250,000.
From there, the journey is only up!
The top-earning professional Hearthstone player of 2020 is Zakarya 'xBlyzes' Hail. He has won a total of $77,123 from competing in competitive Hearthstone tournaments.
On top of winning, professional gamers get paid a salary by their team. This is great as it offers players a stable income as well as additional money for wins.
Think you have the skill it needs to beat the competition? Read our guide to making money by competing in tournaments to make the transition to pro. Becoming a pro gamer is one of the most rewarding ways to make money from playing Hearthstone.
Betting on eSports
If you don't think you are skilled enough to win at Hearthstone eSports tournaments, you could make a living by betting on them.
In relation to other major titles, Hearthstone is still a relatively small eSport, but there are still several events that you can place wagers on:
Masters Qualifiers
Masters Tour
Grandmasters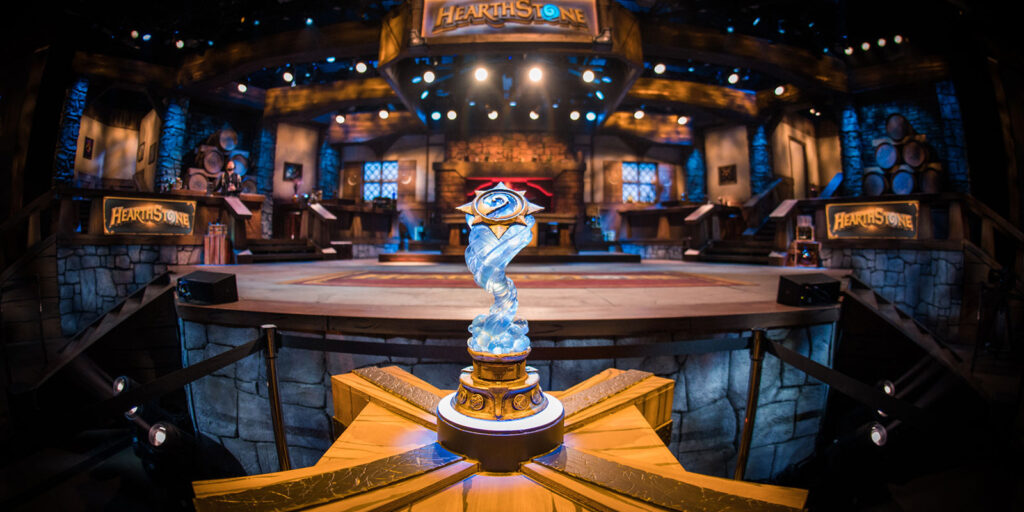 These three tiers make up the Heartstone Masters which replaced the Hearthstone World Championship Tour in 2019. The eSport is, however, getting bigger with six Masters Tour events in 2020 compared to three in 2019.[2]
This means there are even more contests to bet on and an increase in wagering options.
Learn how to start betting on eSports competitions and make money from Hearthstone.
Coaching
If you are a talented Hearthstone player but don't want to compete, another viable option to make money playing the game is by coaching other players.
The market for one-on-one personalized eSports lessons is on the up! Hearthstone players are constantly on the search for getting to Legend rank or improving their performance in the arena.
If you are unknown in the gaming world, your initial coaching fees will probably be around $10 – $20 per hour. However, if you are an established streamer, have won several competitions, or have coached enough students to get a solid teaching reputation, then you can up your prices.
Investing
Another option for making money is to invest in eSports. The industry is only getting larger, which means buying shares in game publishing companies, hardware developers, or streaming platforms is a good idea for making profit.
For investing in Hearthstone, your best option is to buy Activision Blizzard (ATVI) stocks. This is the publisher that is behind the epic card game.
Activision Blizzard is also the publisher behind several other major eSports titles, such as the Call of Duty series and the Overwatch games. Their Overwatch League is causing the company to rapidly grow, making for a great investment.
Investing in Blizzard means that not only are you investing in Hearthstone, but also in these other epic titles.
What Else?
This is not an exhaustive list of how you can make money from video games. Head to our homepage to find out other money-making methods such as developing video games or becoming a game tester.
Got another game in mind? Our gaming guides will walk you through how to make money playing your other favorite titles. Click here to see our full list.
FAQs
How much money does Hearthstone make?
It is estimated that the game Hearthstone makes over $414 million of revenue each year.
Can I make money playing Hearthstone?
Yes, you can make money playing Hearthstone. The main two ways to become a paid player is through streaming or competing in tournaments.
Who is the richest Hearthstone player of 2020?
The richest Hearthstone player of 2020 is Zakarya 'xBlyzes' Hail who has won $77,000 in prizes from Hearthstone competitions alone.
How much money does Disguised Toast make each year?
Hearthstone streamer Disguised Toast makes around $240,000 each year. This is from paid subscriptions, donations, and ads. Any income from sponsorships will be additional to this.
How can I invest in Hearthstone?
The best option for investing in Heartstone is to buy Activision Blizzard stocks. This company is the gaming publisher behind Hearthstone and other big titles.